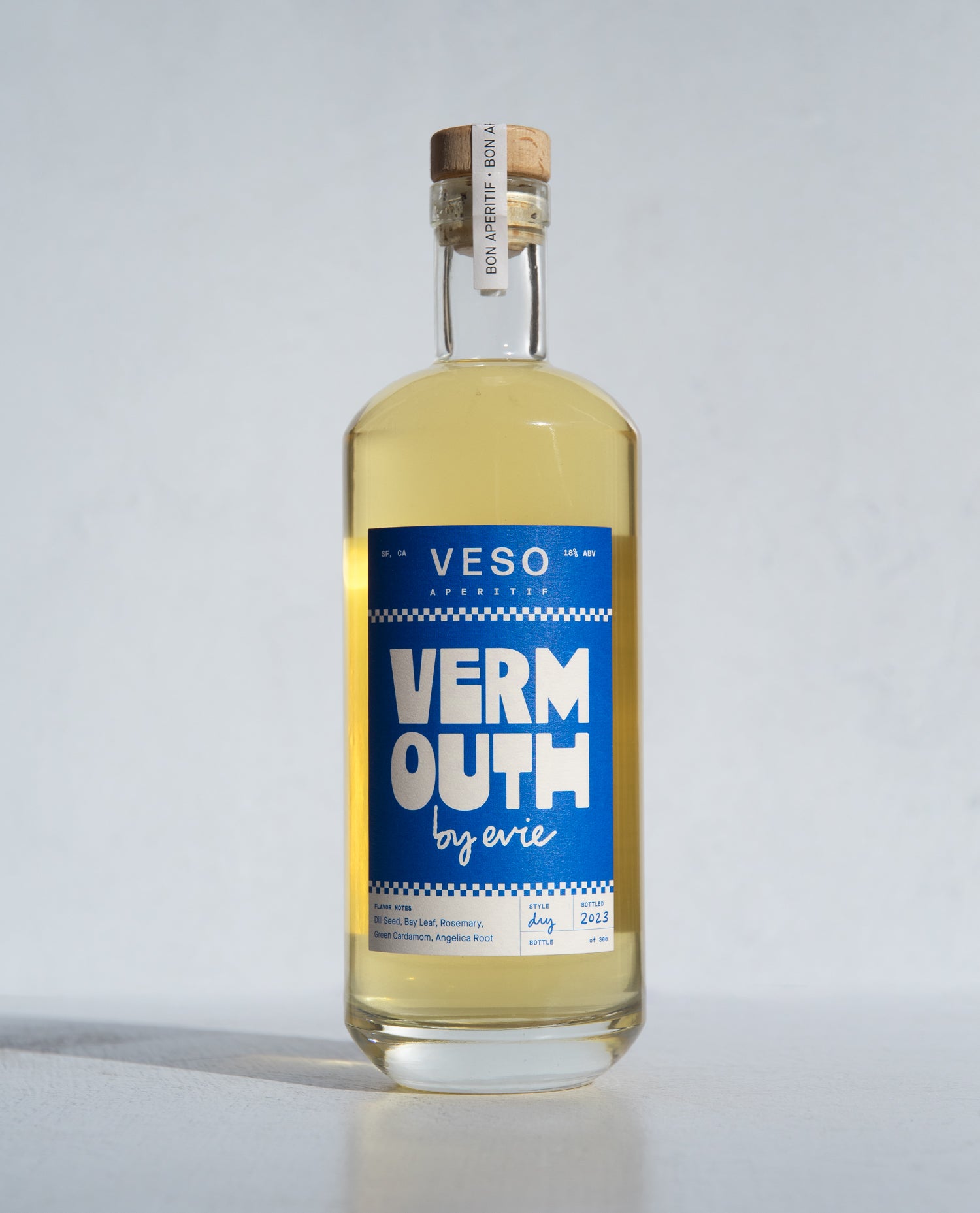 ~COMING SOON~

I'm briney! I'm dilly! I'm certainly herbaceous! I'm a dry vermouth, made perfectly for all your dirty martini needs. But don't forget to sip me on the rocks, or try me in other dry vermouth based cocktails! Veso collaborated with the incredible Evie from @drinksbyevie to create this one-of-a-kind vermouth.
750ml bottle, 18% ABV
Limited Release: 300 Bottles Produced. This ones going to go fast!
A DRY VERMOUTH WORTH DRINKING
Evie (of Drinks by Evie) and Chris (founder of Veso Aperitifs) decided that there isn't enough talk about vermouth. Both passionate about their craft, they believed that their combined expertise and love for high-quality ingredients would result in a complex vermouth that would push the boundaries of traditional taste.
EVIE'S FILTHY MARTINI
3/4 OZ VERMOUTH BY EVIE
2 1/2 OZ DRY GIN
1 OZ OLIVE BRINE

GARNISH WITH BLUE CHEESE STUFFED OLIVE
EVIE'S NEGRONI BIANCO
1 OZ VERMOUTH BY EVIE
1 OZ LUXARDO BITTER BIANCO
1 OZ GIN

SERVE ON A ROCK AND GARNISH WITH A LEMON TWIST
EVIE'S APERITIF
1 1/2 OZ VERMOUTH BY EVIE
3 OZ SODA WATER (MORE OR LESS)

GARNISH WITH LEMON WEDGE AND OLIVE
DRINKS BY EVIE x VESO APERITIFS
We met Evie and instantly fell in love with her aesthetic and appreciation of classic cocktails. One night, after what was probably a few martinis, we joked about collaborating on a vermouth together. But soon after, realized this was no joking matter - the world needed more good vermouth. And from there, Vermouth by Evie was born. We met with Evie to hone in on a botanical profile with dirty martinis on our mind: dill seed to add a bit of that pickle quality, bay leaf and rosemary for an herbaceous pop, green cardamom for complexity, and angelica root for a touch of earthy bitterness. It's one of the best vermouths we've ever had, and works so incredibly well in a martini (think of it as a sort of "Dirty Vermouth").
MADE
WITH
HONEST
INGREDIENTS